Bacon-Wrapped Chicken w/ Sweet Mustard Dressing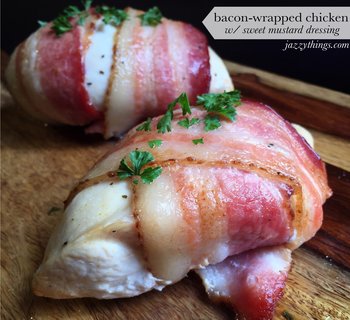 Recipe submitted by @JazzyThings on Instagram
Ingredients:
2 boneless, skinless chicken breasts

4 slices bacon (low sodium)
Cooking Directions:
Coat each chicken breast with 1 Tbsp of Simple Girl Organic Sweet Mustard dressing.

Wrap two pieces of bacon around each piece of chicken, securing with toothpicks.

Coat with remaining dressing.

Place in baking dish.

Bake at 375°F for approximately 40 minutes or until chicken is cooked thoroughly.
Recipe calls for 2 servings.