BBQ Chicken Poppers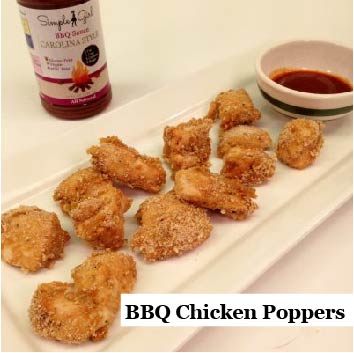 Shared by Colby Triolo
Ingredients:
1 lb boneless, skinless chicken breast (cubed)

3 egg whites

pinch of salt

1 tsp pepper

½

tsp garlic, optional

¼

cup Simple Girl BBQ sauce

1.5 cups GF cereal of choice (I used rice chex)
Cooking Directions:
Preheat oven to 350°F.

In a bowl, combine BBQ sauce, spices, and egg whites.

Whisk well, and add cubed chicken. Allow to sit for 20-30 minutes.

Blend down your choice of GF cereal, I chose rice chex and it tasted great! (Cornflakes work too.)

Pour crumbs onto plate.

Remove chicken from egg wash, roll in crumbs, and place on parchment paper.

Bake for about 12 minutes, or until chicken is fully cooked.

Enjoy!