Blood Orange Salmon Salad with Sugar-Free
Citrus Ginger Dressing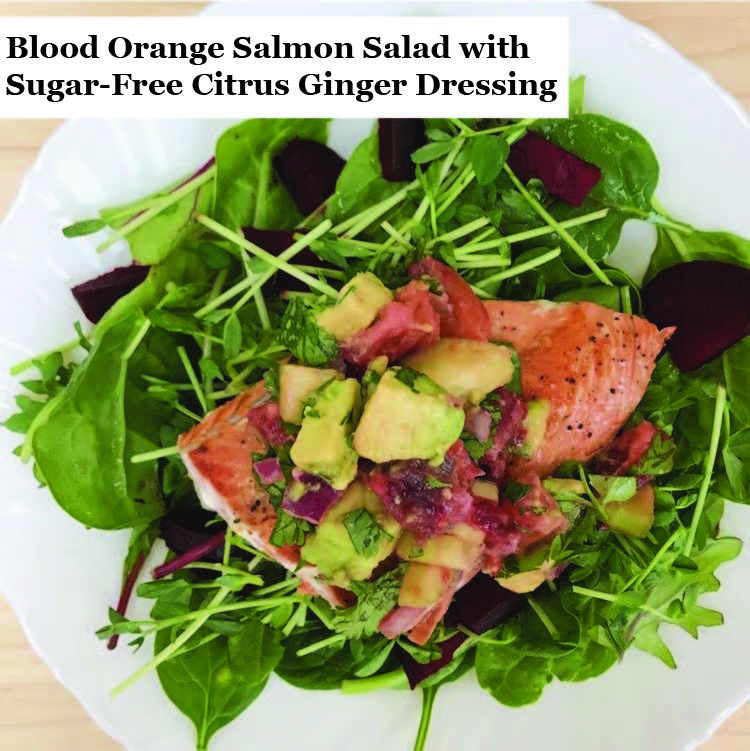 Submitted by @healthy_withchelsea
Ingredients:
1 pound wild salmon (serves 4)




4 blood oranges




1 small avocado




3 tbsp fresh cilantro




½

cucumber, peeled and diced


1 Tbsp red onion, finely diced




Juice from 1 lime




Pinch of sea salt




Mixed greens




1 bunch of beets



Cooking Directions:
Cut the greens off the beets and wrap each individually in foil.

Place in the oven for 45 minutes at 400°F.

Once they are finished, let cool and run under cold water while peeling the skin off and then cut the beets into small pieces.

Cut the skin off the oranges and dice into small cubes.

Peel the cucumber and dice that along with the avocado.

In a bowl, combine the diced oranges, cucumber, avocado, juice from 1 lime, roughly 3 tbs fresh cilantro, red onion and sea salt to taste.

Season the salmon with sea salt, black pepper, ground ginger and cumin.

Heat a grill and place salmon skin side down and cook for about 8 minutes. If you do not have a grill you can also pan sear the salmon on the stove.

Toss the greens and beets in the Simple Girl Organic Citrus Ginger Dressing and top with the salmon and salsa.

Enjoy!
Save