Seared Citrus & Ginger Salmon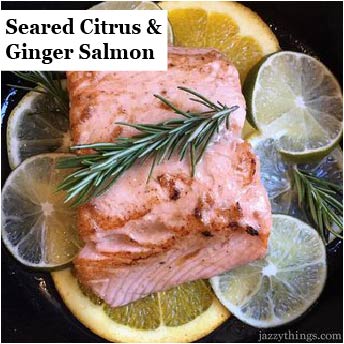 Submitted by @JazzyThings on Instagram
Ingredients:
1 piece salmon

1 tsp coconut oil

orange, lime, lemon slices

rosemary

Cooking Directions:
Preheat oven to 425°F.

Coat salmon with Citrus Ginger Dressing.

Heat coconut oil in cast iron skillet (for an extra sear, preheat skillet in oven).

Add salmon, skin up, and cook for 1 minute.

Flip and cook other side for 1 minute.

Add orange, lime, and lemon slices as well as some rosemary.

Top with a bit more Citrus Ginger Dressing for carmelization.

Cook in oven for 8 minutes.

Enjoy!