Baked Sugar-Free BBQ Tofu Veggie Salad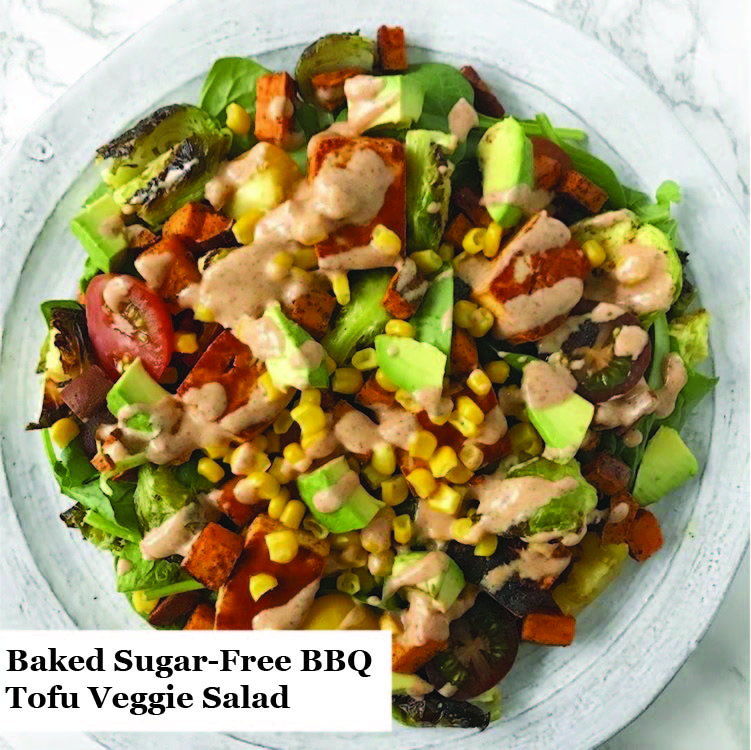 Submitted by @allroadsleadtohealthy
Ingredients:
8 oz spinach or spring mix

1 sweet potato, cut into

½-

inch cubes

2 Tbsp avocado oil, separated

14 oz block of firm tofu, pressed and cut into pieces about

½-inch

thick and 1-inch long

1 bundle of Brussels sprouts (about 2-3 cups), bottoms removed and halved

½ cup cooked sweet corn kernels

20 cherry tomatoes, halved

1 avocado, cubed

½ tsp sea salt, separated

½ tsp black pepper, separated

⅛ tsp garlic powder

⅛ tsp chili powder

¼ cup Plain Greek Yogurt

¼ tsp dried cilantro

¼ tsp lime juice
Cooking Directions:
Marinate your tofu in the Simple Girl Organic Carolina Kick BBQ sauce for at least 30 minutes.

Preheat your oven to 450 degrees F.

Toss your sweet potato pieces with 1 tbsp avocado oil, ¼ tsp sea salt, ¼ tsp pepper, the garlic powder, and the chili powder. Spread on baking sheet.

Toss your Brussels Sprouts with 1 tbsp avocado oil, ¼ tsp sea salt and ¼ tsp pepper. Spread on a baking sheet.

Place your marinated tofu on a greased (or parchment-lined) baking sheet, and top each with a little of the extra BBQ sauce. Save extra BBQ sauce (there should be a decent amount).

Bake the sweet potato, Brussels sprouts, and tofu in the preheated oven for 15 minutes.

Remove the tofu and sweet potato, and continue to cook the Brussels for an additional 5-10 minutes until slightly browned and softened.

In a bowl, mix together, ½ cup of the remaining BBQ sauce, Greek yogurt, cilantro, and lime juice to create the dressing.

Either mix together the spring mix, sweet potato, Brussels sprouts, corn, tomatoes, and avocado in a large bowl, or split each evenly between 4 serving bowls.

Top with tofu, and drizzle on the dressing.

Serve and enjoy!
Save