Sweet Mustard Low-Carb Wraps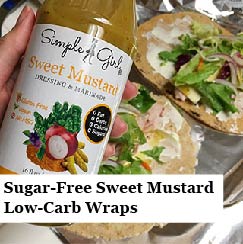 Submitted by @ketoalessa on Instagram
Who doesn't love a good wrap? I'm talking about a delicious hand-held sandwich with fewer carbs! We received a fabulous recipe for one of the most delicious wraps we've ever had from Alessa (ketoalessa) via Instagram.
These keto-friendly Sweet Mustard Low-Carb Wraps feature Simple Girl Organic Sweet Mustard sugar-free dressing drizzled on top. We know you're salivating, and it's ok! Our Organic Sweet Mustard Dressing and Marinade is organic, low-carb, and just as delectable as it sounds! We hope you love these ketogenic, low-carb, heavenly, and easy-to-make Honey Mustard Low-Carb Wraps as much as we do!
Benefits of Simple Girl Organic Sweet Mustard Dressing and Marinade Ingredients
Apple Cider Vinegar
Apple cider vinegar contains only three calories per tablespoon, but it's health benefits are so incredible that you wouldn't care if it contained ten times the calories. This potent liquid lowers blood sugar levels, helps fight against diabetes, and makes you feel full, preventing over-eating.
Mustard
Mustard seeds provide some serious health benefits such as improving immunity, lowering cholesterol, relieving arthritis, controlling asthma, and protecting from gastrointestinal cancer. To top it off, they can help you lose weight and slow aging. Need we say more?
Dehydrated Garlic & Onion
Dehydrated garlic and onion increase iron, copper, manganese, and phosphorus intake, boosting your body of essential minerals. Iron supports energy production, allowing your tissues to gain the fuel they need to remain active. Ingesting copper assists your nervous system function appropriately. Manganese promotes healthy bone development and cartilage, while phosphorus encourages proper kidney function. These four minerals pack a powerful punch!
Salt
Salt is commonly thought of negatively, however, your body needs it in moderation! Without this mineral, your nervous system could not send messages to the brain, keep a constant heartbeat, and prevents muscle cramping during exercise and races. Marathon runners rejoice and don't cut the salt!
Stevia Leaf Extract
Research has shown that stevia is a diabetes-friendly substitute for sugar, as it does not affect blood glucose or insulin levels. It has also been found that the sterol kaempferol, contained in stevia, is found to reduce the risk of pancreatic cancer. Stevia also contains zero calories. Yay!
Spices
We use a variety of flavors to spice up our sugar-free, organic salad dressings. All have health benefits and all are organic!
Sweet Mustard Low-Carb Wrap
Ingredients:
low-carb tortillas (Alessa suggests La Tortilla Factory, Sonoma All-Natural Tortillas, Carb Cutting)

mayonnaise (Substitute low-fat plain Greek yogurt or Hummus for an even healthier option.)

sliced deli turkey

Provolone cheese, sliced

lettuce

red onions, sliced
Cooking Directions:
Warm the tortillas in the microwave for approximately 15 seconds, so they are easily pliable. To avoid drying them out, wrap the tortillas with damp (not soaking wet) paper towels.

Spread mayo, Greek yogurt, or hummus across the tortilla.

Top your chosen condiment with the sliced turkey, slices of cheese, and then the veggies.

Drizzle Simple Girl Organic Sweet Mustard salad dressing over the entire face of the wrap.

Fold the tortilla trapping all of the tasty ingredients inside and enjoy!
Save