Posted by Simple Girl on 10th Aug 2021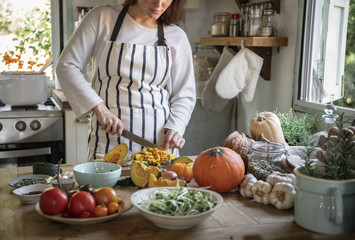 You may think that eating a healthy diet means that you need to shop for organic foods and be an expert chef. However, making simple changes to the way you cook can make a difference in your health and wellness. Implement these four cooking hacks into your daily routine for better nutrition.
Cook with Olive Oil
Be good to your heart and cook with olive oil instead of vegetable oil, butter, or margarine. Olive oil is a good source of vitamin E, antioxidants, and is a healthy monounsaturated fat. According to Healthline.com, "The antioxidants in olive oil are biologically active and may reduce your risk of chronic disease, fight inflammation, and protect your blood cholesterol from oxidation to lower your risk of heart disease."
Instead of buying salad dressing with added sugars and preservatives, use a combination of olive oil, red wine vinegar, balsamic vinegar, and seasoning.
Avoid Processed Foods
You likely have a busy lifestyle and don't have time to spend hours in the kitchen making gourmet meals. However, processed foods like canned chili and macaroni and cheese in the box are not the answer. They are high in sodium, trans-fatty acids, sugar, preservatives, and artificial ingredients. Eat more vegetables, have a salad with dinner, and buy meats, chicken, and poultry that are not pre-marinated and seasoned.
Sautee, Use the Oven, or Grill
Don't fry foods with vegetable oil in a skillet. As stated, it's better to sautee with olive oil. Use the oven since you are not adding extra fat to the food you're cooking. Broil meat, fish, and chicken in the oven or use an outdoor or indoor smokeless grill, so the food is exposed directly to the heat--and fat is dripping away. Grilled vegetables are tasty; especially when olive oil and seasoning are added.
Consider healthier, simple meal choices like baked tilapia and roasted potatoes and vegetables. Place the tilapia in a baking pan. Add olive oil, season, and chopped tomatoes. Slice up a few red potatoes or peel and cut a few yellow potatoes. Place them with broccoli and carrots in a baking pan. Add olive oil and seasoning. Bake for 30 minutes at 400 degrees F.
Poach Foods or Use a Crockpot
Poach foods like fish, eggs, poultry, or fruit in water in a pan on the stove below the boiling temperature. After the food cooks, season it to taste. That's a simple way to cook foods in water, broth, or wine.
Slow cook foods in the crockpot on high heat for 4-6 hours or on low heat for 8-10 hours. You can make meals like chili, beef stew, chicken noodle soup, beef and broccoli, pork roast with potatoes and vegetables, or short ribs. The possibilities are endless when using a crockpot as an easy cooking hack for better nutrition.
Cooking Made Simple
Change the way you cook and improve your health by using these four easy cooking hacks. Remember that olive oil should be a staple in your kitchen. Avoid eating processed foods. Poach foods and use the oven, grill, and crockpot more.