Posted by Simple Girl on 14th Apr 2020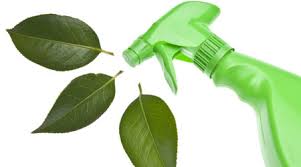 You worked hard to buy your home, and you work just as hard to keep it clean. You take your housekeeping duties seriously, and you enjoy the look, feel and smell of a freshly cleaned room. But what do you know about the cleaning supplies you are using, especially their impact on the environment?
Many common household cleaners are made with artificial ingredients, including some that are potentially harmful to the environment. The next time you get ready to clean, take a minute to read the label. If you cannot pronounce the ingredients you see, it may be time for a cleaner and greener approach.
Opting for green cleaning products does not mean settling for less. On the contrary, some of the most effective cleaning products on the market are also among the most environmentally friendly. Here are five green cleaning products you will be proud to use in your home.
#1 Bon Ami
You may remember Bon Ami cleanser from your childhood, but there is nothing old fashioned about this all-purpose cleaner. Despite being a household name, Bon Ami is also one of the greenest and most environmentally friendly cleaning products on the market.
Bon Ami is also one of the most versatile of the green cleaning products on this list. From the bathroom to the kitchen to everything in between, this green cleaning product does double and triple duty in your home. Even better, Bon Ami is available virtually everywhere, from major retailers to online specialty stores.
#2 Ecover Zero
Finding a dishwashing liquid that cuts grease, cleans dishes and is good for the environment is no easy task, but Ecover Zero manages to walk that fine line. Made with natural ingredients and known for its effectiveness, Ecover Zero dish soap is a perennial favorite.
Ecover Zero dish soap is available at Amazon, so adding it to your shopping list should not be difficult. If you have a lot of dishes to clean, you need this product in your kitchen.
#3 White Vinegar
You cannot get any more basic than plain white vinegar, yet, this miracle substance is also one of the best all-purpose cleaning products around. Pour it in your toilet bowl for a fast and natural cleansing. Add it to your dishwasher to remove those stubborn stains. Pour it down your garbage disposal to fight lingering odors. Mix it with water for a highly effective window cleaner.
No matter how you use it, you cannot go wrong with white vinegar. And since it is available just about everywhere, finding this environmentally friendly cleaning solution should not be a challenge.
#4 JAWS Hardwood Floor Cleaner
The ingredients matter when choosing a household cleaner, but so does the packaging. If you are looking for a product that will leave your hardwood floors clean, shiny and streak free, JAWS Hardwood Floor Cleaner is the perfect choice.
Even better, JAWS is made with minimal packaging, so you can feel even better about using it. With little left to throw away, this hardwood floor cleaner is better for the environment - and for your home.
#5 Baking Soda
Another all-natural cleanser that can clean virtually every room in your home, plain old baking soda, is often overlooked. You probably already have a pack in your refrigerator, so bring it out and see what it can do.
You can make a paste of baking soda and water to clean the bathroom and kitchen, add it to the litter box to kill odors and fight excess moisture and even use it to brush your teeth. Best of all, baking soda is available everywhere, so there is no reason not to keep it in your home.
Keeping your home clean should not be a chore, but doing so does not have to harm the environment. If you want to keep your home looking its best while still living a green lifestyle, just put the five products listed above on your shopping list.