Posted by Simple Girl on 8th Feb 2019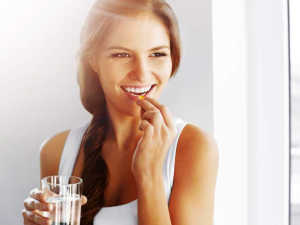 Fish oil — and the omega-3 fatty acids it contains — has a wide range of proven benefits, including promoting a healthy brain, heart, eyes, and skin. While it's always best to get your omega-3s directly from fatty fish like herring, mackerel, and salmon, a fish oil supplement can help boost levels of EPA and DHA, the most beneficial fatty acids, in the body.
But all fish oil isn't created equal. Choosing the highest quality supplement is essential for getting the maximum benefits from the fish oil.
What to Consider When Choosing a Fish Oil Supplement
The best fish oil supplements will provide you with at least 1,000 milligrams of EPA and DHA fatty acids per serving.
Third-Party Testing. Since supplements aren't subject to the same strict standards that prescription and OTC medications are held to, it's important to choose a fish oil supplement that has undergone third-party testing for quality, content, labeling, and other parameters. Respected third-party testers include United States Pharmacopeia (USP), National Sanitation Foundation (NSF), Labdoor, and the International Fish Oil Standards Program (IFOS).
Sustainable. Americans spend $1 billion a year on fish oil supplements, and that's a lot of fish. Over-harvesting and unsustainable practices echo up and down the food chain, so choosing a fish oil supplement that's produced through sustainability practices is essential for being a good environmental steward. Look for the Marine Stewardship Council's (MSC) "blue label" to ensure your fish oil is sustainable.
Omega-3 Content. The recommended minimum daily dose of EPA and DHA is a combined 500 milligrams. You should be able to get at least the minimum in two soft gels. If it takes any more than two pills to get the preferred dose, you're wasting time and money.
Natural Ingredients. Avoid fish oil supplements that have added flavors and colors, which should be unnecessary and may be unhealthy. They may also cover up the smell of fish oil that's gone rancid. Choose a fish oil supplement with no artificial flavors or colors.
Five High-Quality Fish Oils
Based on the criteria above, here are our picks for five fish oil supplements you can buy with confidence.
Wiley's Finest Wild Alaskan Fish Oil. Wiley definitely has its eye on the environment, with their ethical production practices and post-consumer recycled cardboard packaging. Their fish oil supplements are MSC-certified, and they've been third-party tested. The combined EPA and DHA is 1,000 milligrams per capsule, and the natural capsules are made of tilapia gelatin rather than bovine gelatin, making them safe for a wide range of diet styles.
Nutrigold Triple-Strength Omega-3 Fish Oil. Nutrigold fish oil capsules are third-party tested and IFOS 5-Star Certified. They're free of mercury and other toxins, and they're CMS-certified. One capsule offers 1,000 milligrams combined of EPA and DHA.
Healthwise Omega Fish Oil. Omega fish oil contains no artificial ingredients, fillers or binders, and it's third-party tested and certified by GMP. Each serving contains 1400 milligrams of combined EPA and DHA. The fish oil comes from sustainable fish-oil sources.
Vital Choice Wild Salmon Oil. With a total of 600 omega-3 per serving, this oil also contains vitamins A and D. It's certified by NSF International, and it's made from natural and sustainable ingredients.
Life & Food Omega-3 Supreme. Certified by MSC for sustainable practices, Omega-3 Supreme contains 980 combined milligrams of EPA and DHA. It's certified by third-party testers GMP and Labdoor, and it contains no artificial flavors, colors, or other ingredients.
As always, talk to your doctor before beginning a new supplement. Some supplements can interfere with medications you're taking, and getting too much of a particular nutrient through diet and supplementation can lead to health problems.