Posted by Simple Girl on 20th Jun 2017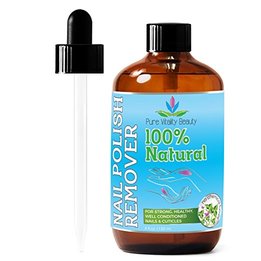 Beauty is a billion-dollar industry that's expected to reach $265 billion in revenue in 2017. Products on the market range from the ultra-cheap budget items that you really should put anywhere close to your skin to the super-expensive specialty stuff that can cost as much as a month's worth of groceries.
The good news is that you can be beautiful on a budget without exposing yourself to harmful chemicals. These five top-rated natural beauty items won't cost you an arm and a leg, but they'll do the trick quite nicely and completely naturally.
Pure Vitality Beauty Natural Nail Polish Remover
Cheap nail polish remover contains harsh substances like acetate, ethyl lactate, and nasty petroleum-based chemicals. Pure Vitality Beauty offers an acetone-free nail polish remover that's 100 percent plant-based, USDA BioCertified, chemical-free, and non-toxic. It not only wipes away yesterday's polish, but also conditions and strengthens your nails. It's safe to use on your kids, and it won't stink up your house. It's biodegradable and contains no polluting fumes, making it as eco-friendly as it is nail-friendly.
Tom's of Maine has been making all-natural beauty products since 1970, before all-natural was even a thing. Tom's natural toothpaste is one of its best-selling lines, and for good reason: Tom's products contain no artificial colors, fragrances, or flavors, and they're free of artificial preservatives like formaldehyde and parabens. They never test their products on animals, and they adhere to strict environmental policies. Tom's Toothpaste has earned the American Dental Association's Seal of Acceptance, making it a proven alternative to commercial oral care products. You can find Tom's Toothpaste for sensitive teeth, fluoride-free versions, whitening pastes, and children's toothpastes in a variety of flavors.
Burt's Bees is the bees' knees, no matter what specific product you're looking for. Burt's Bees Lip Balm is a no-brainer when it comes to soft, supple lips. That's because Burt's is made with 100 percent natural ingredients, including grape seed oil, coconut oil, and beeswax, all of which moisturize and soothe dry lips naturally. Burt's Bees products contain no parabens, petroleum, or phthalates.
You gotta get that makeup off your face, but you don't want to slather your skin in harmful chemicals to do it. Enter UltaBeauty Cactus Water Makeup Removing Wipes, which are infused with cactus water and contain aloe vera and jojoba oil to moisturize and soothe your skin. The wipes are 100 percent vegan and cruelty-free, and they effectively remove makeup and environmental pollutants from your skin.
Sunscreen is essential for protecting your skin from serious damage from UVA and UVB rays, but when you slather on your usual sunscreen, you're also slathering on a range of harmful chemicals. MyChelle Sun Shield sunscreen is a natural alternative to the usual suspects. It's mineral-based and contains natural active ingredients, including zinc oxide and titanium dioxide. It also contains aloe and vitamin E to moisturize your skin even as it protects it from the sun. MyChelle Sun Shield is biodegradable and reef-safe, and it's made without silicones, sulfates, petroleum, phthalates, and artificial colors and fragrances.