Posted by Simple Girl on 10th Nov 2021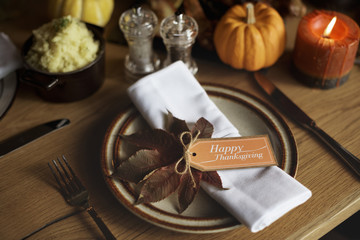 Thanksgiving is a special holiday. If you want to make it even more memorable for your family and friends celebrating with you, there are some things you can do to make it more special. Consider implementing one or all of the following unique Thanksgiving traditions with your family and friends.
Donating Food
A way to make your Thanksgiving Day one to remember is to ask your guests to bring a canned good or other non-perishable food with them to your home. After the Thanksgiving feast, you all can go together to drop off the food at a local soup kitchen or food bank. This can be a great memory-making experience for you and your guests.
Give Away Toys
Ask your guests to bring a toy to your house on Thanksgiving Day. You can collect all the toys and bring them that day or after the holiday to a drop off location for a local toy drive held by the Salvation Army or other organization collecting toys for children this Christmas season.
Memorable Place Cards
Make the day special for both you and your guests by writing place cards with a special message to that individual. You can write down why you are thankful for them and share an encouraging word. This can brighten the Thanksgiving Day experience for your guests and help you to keep focusing on your blessings through all the busyness of preparing for this special day.
Use a Blessings Box
Place a box on a table near your front door. Ask your guests to write down something they are thankful for this year. They can fold it up and put it in the box, without writing their name on the paper. After the meal, pass the box around. Have guests pick a paper from the blessings box, read it, and see if they can guess who the person is who wrote it down.
Breaking the Wishbone
During the breaking of the wishbone time, ask your guests to share something that they are wishing for during this holiday season. This can be a great time to grow closer as a family and friend group as you deepen that emotional connection.
Cookie Making Time
Make cookies before your guests arrive and have a cookie decorating time after the meal before you eat dessert. If you have the time and space, you can even wait to make the cookies with some or all of your guests. Make the experience more fun by holding a contest for the best cookie decorator. Make some extra cookies and bring them over to a neighbor's house and ask your family and friends to sing a Christmas carol for them.
The Possibilities are Endless
Nigel Hamilton said, "Thanksgiving is a time of togetherness and gratitude." Make this Thanksgiving Day special for you, your family, and friends. The possibilities are endless when you are open to creating new holiday traditions for your family and circle of friends. Using any one of these unique traditions can help you make the day even more special.