Posted by Simple Girl on 19th Feb 2019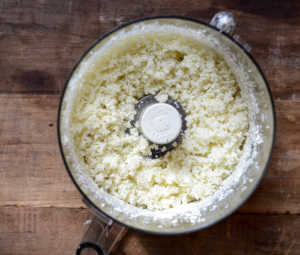 Whether you're eschewing gluten in your diet due to celiac disease or you're going low-carb or keto to lose some weight, crust is off-limits. No more pizza, no more savory pot pies. But wait! Is it true that delicious crusts have to be cut from your diet? Not if you go the cauliflower route. Cauliflower, that delicious white, cruciferous vegetable, makes a heck of a crust, and once you have a cauliflower crust pot pie or a cauliflower crust pizza, you probably won't want to go back to the old-fashioned, gluten- and carb-loaded grain-based crust.
Here, then, are two crust recipes you can try yourself.
This cauliflower pizza crust takes about 20 minutes to whip up and another 30 minutes to bake to an appetizing golden-brown.
Ingredients
cauliflower, 1 head
½ cup shredded mozzarella
¼ cup grated Parmesan
½ tsp dried oregano
½ tsp salt
¼ tsp garlic powder
2 eggs, lightly beaten
Instructions
First, preheat your oven to 400 degrees F, and line a baking sheet with waxed paper.
Break a head of cauliflower into pieces, and pulse them in a food processor until they're finely chopped.
Place the cauliflower crumbs into a steamer, and steam until soft. You can also put the cauliflower in a microwave-safe bowl and microwave for five minutes or until tender.
Place the tender cauliflower into a paper towel, and squeeze out the excess water.
In a bowl, combine the cauliflower with the shredded mozzarella, Parmesan, dried oregano and salt, garlic powder, and 2 lightly-beaten eggs.
Move the dough to the baking sheet, and flatten it into a pizza crust with your hands.
Bake for 20 minutes.
Remove the crust from the oven, and add your toppings.
Bake 10 more minutes, and enjoy!
Get out your favorite pot pie recipe, and instead of making a crust, concoct this simple, savory cauliflower mixture to spoon over the top before you bake it for a low-carb, gluten-free Sunday supper.
Ingredients
cauliflower, 1 head
2 cloves garlic
¼ cup of cheddar cheese
¼ cup of Parmesan
½ tsp of salt
¼ tsp of ground black pepper.
1 tbsp butter
Instructions
Cut a head of cauliflower into pieces, and put them, along with the garlic, in a pot with ½-inch of water in the bottom.
Simmer over medium heat for eight minutes or until the cauliflower is tender.
Transfer the cauliflower and garlic to a food processor, and blend until smooth and creamy.
Stir in cheddar cheese, Parmesan, salt, and ground black pepper.
Spoon the cauliflower mixture over the top of your pot pie filling, and smooth it with the back of the spoon.
Cut butter into small chunks, and scatter them around the crust.
Bake your pot pie for 25 to 30 minutes, or until the crust is golden brown and the filling is bubbly-hot.
Going gluten-free or low-carb doesn't have to mean missing out on all your favorite crusty foods. A cauliflower crust offers the texture you love, and it's packed with nutrients, including protein, magnesium, phosphorous, vitamins C, K, and B6, and folate.