Posted by Simple Girl on 10th Dec 2021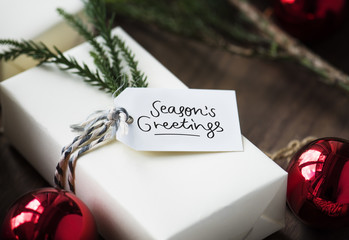 If you've been wondering how to make Christmas special for your family and friends, consider giving them sentimental gifts this holiday season that they will cherish. Tori Sorenson said, "Christmas is about giving from the heart more than giving from the store." Consider some of the following gift ideas that can make Christmas more memorable for your family and friends.
Personal Gift Card
Make a personal gift card out of paper or digitally through an e-card sharing how you will give of your time to help them out. For example, take their dog for a walk several times or help them organize their home office that has become disorganized since they've started working from home. Make this service personal depending on the person you're giving the card to and what is most important to them at this time.
Acts of Service
Check out the needs of a local charity as they are heading into the new year. Give a donation in your friend's or family member's name. Then plan a time when you both can go to the charity after Christmas and work together in service. This is a unique gift idea that can cultivate a deeper relationship with you and this individual as you get the opportunity to work together and serve others.
Heart and Soul
If you are creative, tap into your creativity and make something very special for your friends and family members. If you sing, write and record them a song. If you write poetry, write a poem about them and have it framed. If you write fiction, write a short story with a character based on them and see if you can get it published in an online fiction magazine. Use your creativity to touch the heart and soul of your friends and family.
Get Crafty
Do an online search to find the best do-it-yourself (DIY) Christmas gift ideas. Many popular online sites like Good Housekeeping, HGTV, Country Living, Shutterfly, and House Beautiful publish annual listings of the best homemade gift ideas. You don't necessarily have to be the best crafter to make homemade gifts. Think about what the person likes and put together your own gift basket. For example, if they like chocolate, fill a basket with a variety of chocolates, hot cocoa, gourmet chocolate covered nuts or fruit, and include chocolate molds along with ingredients and directions on how to create their own chocolate candy.
Plan an Outing
Spending time with your friend or family member can become a more memorable experience than giving them a gift that they may soon forget. Buy tickets to the local aquarium and plan an outing for your niece or nephew. Get creative and see what types of local events are happening after Christmas and schedule a date night with your spouse or significant other. Maybe you can schedule a pottery painting class or wine tasting to attend together.
Think Outside the Box
Finding the best sentimental gift for your friend or family member this Christmas may seem difficult. Think outside the box and use these five heartfelt gift ideas to begin your gift giving journey.