Posted by Simple Girl on 10th Mar 2020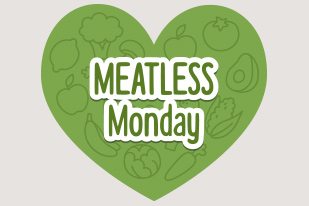 Whether your goal is to lighten your load on the environment, improve the lives of your fellow creatures or just live a healthier lifestyle, eating less meat is a good place to start. But what if you are not ready to go full-on vegan or vegetarian? What can you do to improve your meals and please your family?
If you are not ready for a vegetarian lifestyle, why not start with meatless Mondays? Going meat-free one day a week can have a profound impact on your health and the health of your family - all without giving up your carnivorous ways. Here are some tips for incorporating meatless Mondays into your weekly meal prep routine.
Check Out the New Meat Substitutes
There has never been a better time to give up meat. After decades of meager choices like bland tofu and tasteless fake meat patties, meat alternatives have exploded in a big way.
Companies like Impossible Foods and Beyond Meat have changed the game, not just for vegetarians and animal lovers but for dedicated carnivores as well. If you want to enjoy meatless Monday on the grill, just pick up a pack of these meat-free burgers at the local grocery store.
Let Everyone Choose Their Own Meat-Free Favorites
Even the most carnivorous family members can enjoy meals that do not include any animal-based ingredients. From the smallest kids to the grandparents, everyone has their own meat-free favorites.
If you want your meatless Monday experiment to be a roaring success, invite everyone to name their favorites. Once you know what everyone wants, you can prepare a potluck feast - one that the whole family is sure to love.
Get Creative with Vegetables
If you think that vegetables are boring, you may just be preparing them wrong. Vegetables can be truly delicious - if you take the time to cook them right.
Experiment with various vegetable concoctions, from blending green peppers into your pasta sauce to roasting veggies on the grill. The more you get to know your vegetables, the easier it will be to create perfect meat-free meals.
Try Out Meatless Versions of Your Favorite Meals
From eggplant parmesan and vegetarian lasagna to plain marinara sauce and fresh pasta, meat-free versions of your favorite recipes are sure to make meatless Mondays something special.
Playing around with your favorite recipes is always a great way to spice up mealtime, so take a look at creative ways to reduce the amount of meat your family consumes. Who knows - you just may discover a new favorite.
Going meat free does not have to be a sacrifice. Even if you love meat in all its forms, going meat free one day a week is a great way to experiment with new foods and new tastes. The tips listed above can help you get meatless Monday off to a great start. With a little bit of planning and some creativity, you just might find that meatless Monday is your favorite day of the week.