Posted by Simple Girl on 10th Jan 2023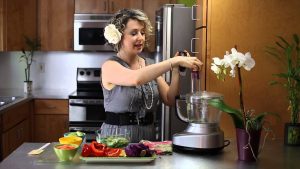 Looking for some awesome gadgets to add to your kitchen for optimal health? Here are some neat kitchen appliances that we have found that are sure to make living a healthy lifestyle easier!
Oil Mister
If you don't want to use PAM or another synthetic oil spray, it can sometimes be too easy to pour a much-larger-than-needed amount of oil into a cooking pan or onto a food item (like salad). To prevent an over-pour, get yourself an oil mister. These things are awesome for being able to spray the right amount of oil (or combination of oils that you like) onto surfaces or your favorite foods.
2. Salad Spinner
Use this nifty little device to spin-dry your salad after you wash it. If your greens are drier, you will feel the need to use less dressing AND be able to eat it sooner without feeling like you are eating moist slop.
3. Vegetable Peeler
Having a vegetable peeler makes removing skin from fruits and veggies super easy, but wait! These can also be used to shave slivers of other things, like cheese and chocolate.
4. Storage Containers To Make Meals Ahead or On-the-Go Meals
Having durable "to-go" containers allows you to take more control of your diet and eating habits. With these nifty items, you can make meals and snacks ahead of time, making it much easier for you to make healthy choices in those busy or lazy times. Opt for glass containers or at least BPA-free containers to make sure that your containers aren't adding chemicals that may be harmful to your health.
5. Vegetable Steamer
With a collapsible metal steamer or a full vegetable steamer, you can steam much more than vegetables. Think fish, whole grains, and more. You can even use vegetable or chicken broth to add flavor WITHOUT adding more oil or fat.
6. Mini Food Processor
Having a mini food processor can help you with your meal planning by taking a lot of time out of crushing or cutting up foods. You can use one to make salsas, chicken salads, bread crumbs, soup bases, dips, and sauces.
7. Slow Cooker
My slow cooker is one of my favorite kitchen gadgets for weight loss and general healthy eating. I can make a dish in there that will feed us for two meals. I can often prepare the items I am going to throw into the slow cooker weeks ahead of time, freeze it, dump it into the slow cooker, set it, and have the aroma of a warm and delicious meal filling the house when I get home. It's amazing and I can make so many different healthy meals in my slow cooker.
8. Knife Sharpener
One silly thing that was keeping me from cooking chicken meals at home was the time to cut the fat off of the chicken breasts. One day, my brother said, "Why don't you just sharpen your knives? It'll take you 1/3 of the time to cut the chicken after that." Mind blown. Sometimes we don't think of the most obvious solutions! I purchased a knife sharpener, sharpened my knives, and cut my prep time in half as promised, no pun intended.

9. Vegetable Spiralizer
This nifty kitchen gadget for losing weight has been awesome in my kitchen. I can use it to make zucchini noodles in a spiral shape or in a flat lasagna noodle shape. I have been using my zucchini noodles to make spaghetti and lasagna and both have been amazing. It's really easy. You just take your whole zucchini and put it through the easy-to-use slicer to make your noodles and start cooking!
10. Immersion Blender
Don't want to get a big blender dirty to blend a little something? Use an immersion blender to quickly blend up sauces and dressings for your yummy healthy recipes. Also, the immersion blender's whipping effect adds creaminess and volume WITHOUT adding fats, so you can more easily reach a healthy weight.